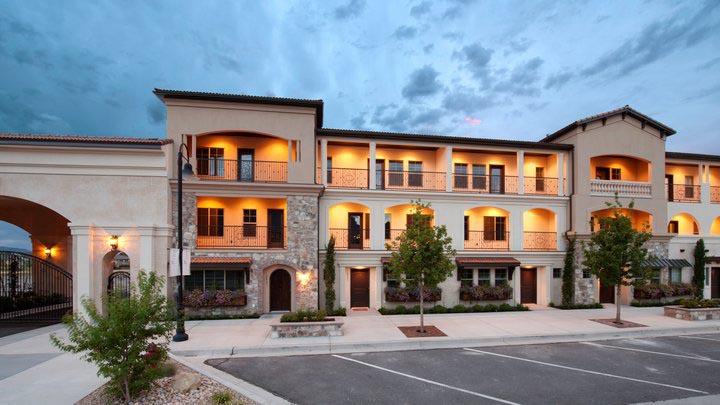 Client:  Flagship Homes
Location: Highland, Utah
The 160-unit townhome development is located at the center of Highland City next to a library, restaurants, shops and businesses. Designed and constructed in multiple phases, the 160 townhomes total 173,300 square feet
WPA created design standards which call out 4-5 styles that can be modified for each building. This approach to interior and exterior elements creates repetition as well as a unique identity for each building. Units that face a street were required to have a step back for the upper levels. Balconies and exterior areas were designed to meet this requirement.
Spread over 13 phases, WPA initially designed smaller, two-bedroom units to accommodate market conditions.
Larger, three-story units feature bedrooms on the top floor with kitchen, dining and living areas on the second floor. A den and garage are accessed on the main level.
The units plan range in size from 1,450 – 2,190 sq. ft.
Amenities of the 3,110 sq. ft. central clubhouse include a theater, exercise room, large multi-space area with a serving area, exercise room, and kid room adjacent to an outdoor swimming pool and spa.